Alumni Newsletter August - October 2014
Dearest Alumni
Once again, I was overwhelmed by your positive and warm responses to the last Newsletter, there were so many, that I really did not have the time to answer you all. Please know that I am so happy that you are enjoying receiving our GIMI news.
I have not added too many photographs to the first page of the news, but please make sure that you click READ MORE, as there you will find many photographs and further information.
I do hope that you enjoy our Newsletter and please do remember to let us know, if you have any news you would like to be put in the next one.
My thanks as always to Co-Editor Eyal Weissbuch; without Eyal this Newsletter would not be possible.
Warmest regards from all here,
Shalom,
Sallee

Israel-Palestine Relations
Despite the current situation, GIMI is proud to be carrying on with a very special programme of cooperation with the Palestinian Authority, in keeping with our mission of building bridges of peace in the Middle East. Read more >>>

Dr. Shevel in Nigeria
Rufus Giwa Polytechnic in Owo, Ondu State, Nigeria, invited GIMI President, Dr. Joseph Shevel to give a lecture on "Economic Development in Education, Based Upon the Israeli Experience". The lecture took place on Wednesday 30th July, 2014 and was attended by almost 1,000 people, including around 40 graduates who came from far and wide to hear Dr. Shevel. He has asked me to thank you all those that attended and to let you know how delighted he was that you came and that he had the opportunity to eat with you after the lecture.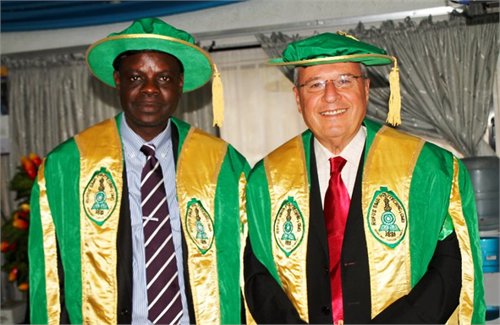 Prof. Igbekele Amos Ajibefun, Rector, Rufus Giwa Polytechnic, with GIMI President Dr. Joseph Shevel
Greece - Climbing Mount Olympus
Prof. Sotiris Theofanis, a graduate of GIMI's Port Management course, Nov. 1993 joined Dr. Joseph Shevel in climbing Mt. Olympus (2500m.) in Greece. Read more >>>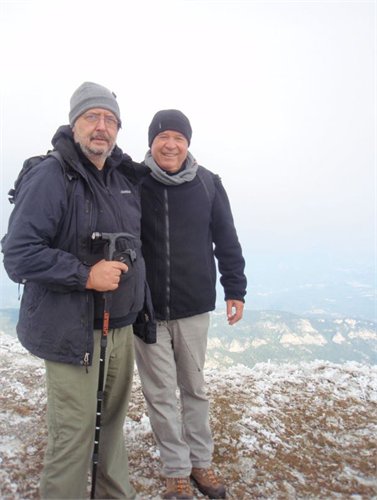 Prof. Sotiris Theofanis and Dr. Shevel
GIMI and UNZA Joint 3 Day Seminar
The University of Zambia (UNZA) and GIMI jointly held a three-day, in-country premium training seminar, for over 160 attendees...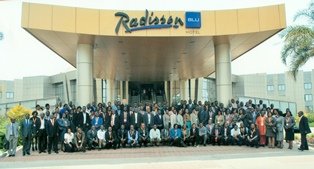 The Seminar attendees Group picture
Kenya
GIMI Chairman of the Board of Trustees, Major General (Ret.) Dr. Baruch Levy and GIMI President Dr. Joseph Shevel travelled to Kenya, for a series of meetings, this September, accompanied by Mr. Shai Sheked. They were delighted to have productive meetings with many friends. Read more >>>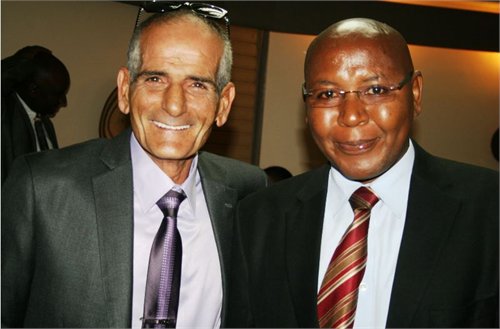 3 times graduate Mr. Alex Gathii Gitonga, Tanolope Consultancy Limited with Shai Sheked, in Kenya
Rwanda
Dr. Shevel flew to Rwanda to join the three day conference on "Regional Peace and Security Architecture: Building Synergies and Capacities for the Military and other Security Agencies in Eastern Africa". Read more >>>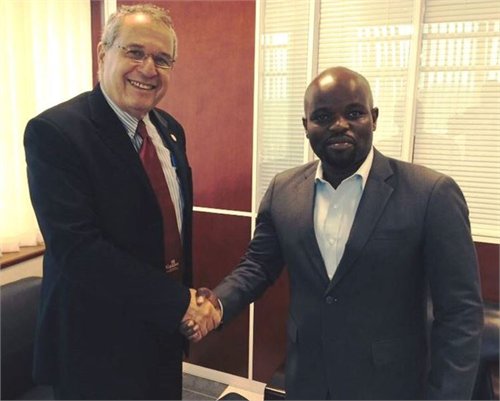 The Hon. Dr. Jean Philbert Nsengimana, Minister of Youth and ICT, Rwanda, with Dr. Joseph Shevel
GIMI in Ghana – August 2014
Tamar Joseph, Director of the International Department and Anat Douieb, Senior Programme Director arrived in Ghana on 31st July. They met up with Dr. Shevel, who arrived from Nigeria. Friday morning they were up bright and early and were delighted to see our dearest Kojo who kindly took all three of them around on their first full day in Ghana. Read more >>>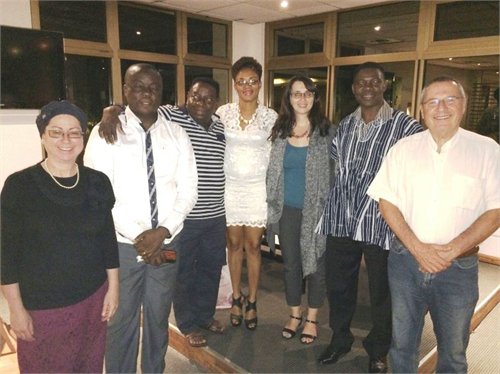 Bank of Ghana and CALBank Graduates with Anat, Tamar and Dr. Shevel
Korea
Shoshi Norman, Director of the Centre of Middle East and Religious Studies, took part in the 8th International Conference of Museums for Peace at the No Gun Ri Peace Memorial Park in South Korea. Shoshi presented a project, an art exhibition of two artists: Ahmad Canaan and Moshe Kassirer, aiming to promote understanding, through joint art exhibitions, between Israelis and Palestinians.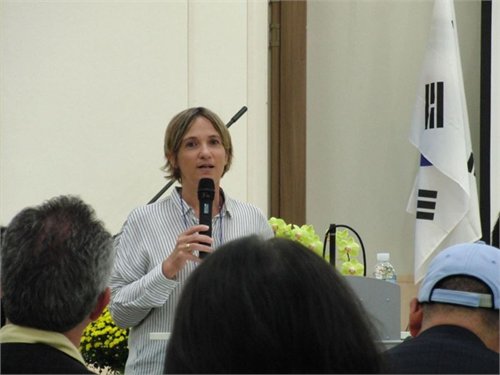 Shoshi Norman Lecturing at the No Gun Ri Peace Memorial Park in South Korea
GIMI at Home
Galilee International Management Institute in association with the National Transport Infrastructure Company Ltd (Netivei, Israel), provided a special Training Programme, in Israel, for Transport Specialists from the Azerbaijan Ministry of Transport. Read more >>>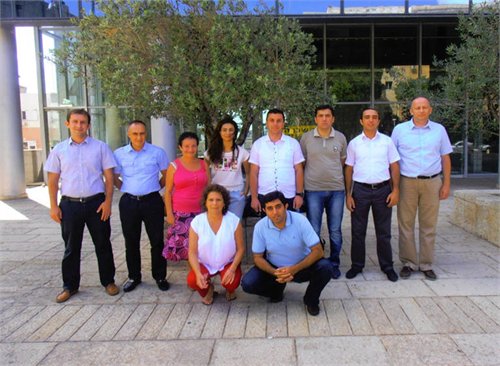 Mr Ravil Isgandarov, Mr Subhan Abilov, Mrs Janine Ross (GIMI),Miss Vusala Mammadova, Mr Gafgaz Adigozalov, Mr Elshan Mammadova ,Mr Teymur Abbasov, Mr Edward Yosilevski (Netivei), Mrs Orly Asheroff(GIMI) and Mr Nijat Mikayilov,
Hertzlia Meeting
The Chairman of the Board of Trustees at GIMI, Major General Dr. Baruch Levy and The Director of the Centre for Higher Education, Carina Baum were delighted to have met up with our dear friend and graduate Prof. Olugbemiro Jegede, State Secretary of Kogi State, Nigeria, together with Chief James Awoniyi, Advisor to Kogi State Government while they were visiting Israel. They met in the seaside resort of Hertzlia and held a very productive meeting.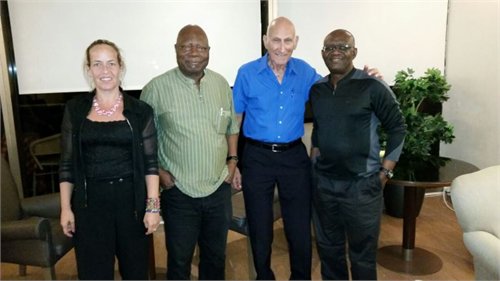 Galilee Institute' Representative at TEDMED Live 2014
Ms. Michal Mizrahi, GIMI's Director, Centre for Health Management participated in the TEDMED Live 2014, Jerusalem Centre Conference! Read more >>>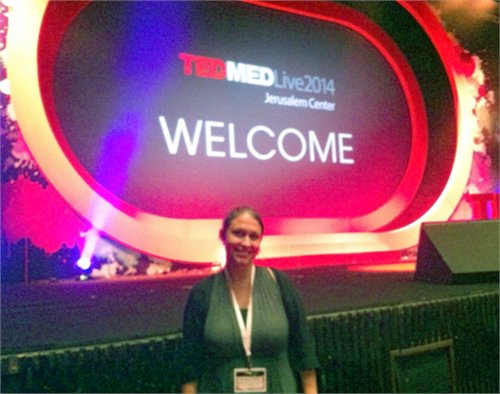 GIMI in the Press
Our Dear SME Graduate Mr. Joel Osebor of Con-Edge Enterprises Solution Limited, Nigeria, shared his experiences at GIMI – with the caption 'National development and Personal Development takes a lot of commitment and decision making. Please read my article on the Israel story and how Entrepreneurs (new & Existing) can leverage on their experience to build a greater Nigeria': http://www.dailytimes.com.ng/article/start-nation-my-israeli-experience-1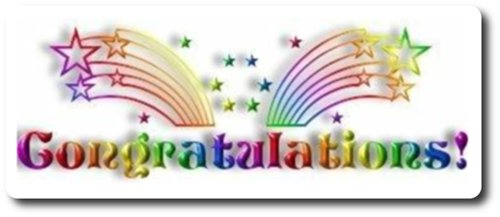 GIMI Graduates are really going places, our warmest congratulations to:
To our newest Doctor – Dr. TARLA Divine Nfor (JP, IR, MSc, PhD), from the Department of Plant Protection, FASA, University of Dschang, Cameroon, upon his successful defence.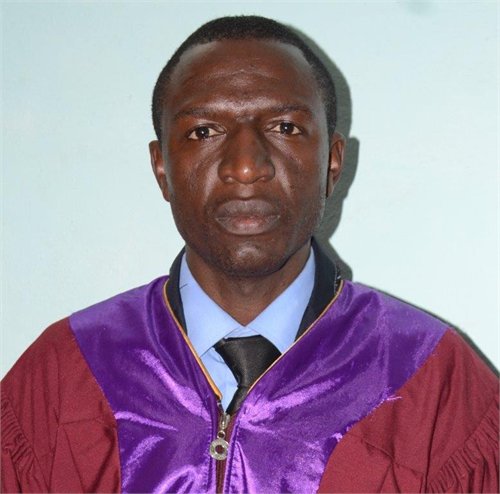 Dr. Buenafe F. Alinio, Deputy Director/Branch Head of Batac Branch of the Bangko Sentral ng Pilipinas (BSP) and graduate of the 12th Human Resource Management Seminar (December 2011) of the Galilee International Management Institute, spurred Batac Branch into winning the coveted "Best Performing Branch in Luzon for 2013" award. Batac Branch is one of the eighteen (18) branches of the BSP and is located in the northern part of Luzon in Batac City, Ilocos Norte.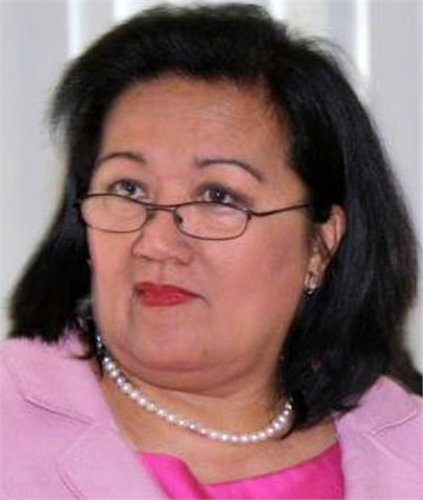 PROGRAMME SEARCH